Rail Guide Awarded Medal in NYC
THE RAIL LINES of Southern New England, by Ronald Dale Karr, has been awarded a silver medal in the Transportation category in the 23rd Annual Independent Publisher Book Awards at a ceremony in New York City on May 28, 2019. Launched in 1996 and conducted each year to honor the year's best independently published books, the "IPPY" Awards recognize excellence in a broad range of styles and subjects. The Independent Publisher Book Awards were conceived in 1996 as a broad-based, unaffiliated awards program open to all members of the independent publishing industry. The awards are intended to bring increased recognition to the thousands of exemplary independent, university, and self-published titles produced each year, and reward those who exhibit the courage, innovation, and creativity to bring about change in the world of publishing.This year's contest drew 4,500 entries, and medals went to authors and publishers from 42 U.S. states plus the District of Columbia and Guam; 5 Australian states, 7 Canadian provinces, and 10 other countries overseas. For more information on the IPPY awards, see here.
The thoroughly revised edition of The Rail Lines of Southern New England: A Handbook of Railroad History updates a classic account. Half of the 100-plus photographs are new to this edition and all of the maps have been redrawn, taking advantage of advances in GPS mapping technology since the 1995 edition. The numbering scheme has been retained, but the histories of the 83 company segments have been thoroughly revised, corrected, and updated to include rail trails, the passing of Conrail, the rise of Pan Am Railways, new abandonments, and expansions of passenger service.
If your copy of The Rail Lines of Southern New England is getting a bit worn, now is a great time to revisit this award-winning classic!
From Bondcliff Books
FROM THE LEADING publisher of White Mountain books comes the life of legendary New Hampshire lumberman James Everell Henry. Written by his grandson and namesake, James Everell Henry II, The Life of James Everell Henry tells the story of one of the most controversial and colorful individuals in the history of the Granite State. Originally published privately in 1962, this new edition is supplemented by an extended appendix featuring nearly a dozen pieces offering more insights into Henry's remarkable life, including the the transformation of the town of Lincoln, N.H., from a wilderness outpost to a thriving mill town.
SPECIAL NOTICE
BRANCH LINE PRESS WILL BE closed for the holidays from December 11, 2023, until January 5, 2024. We just won't be able to process your order during this period. We suggest you order from our other vendors, such as Amazon. Happy Holidays to all of you. Peace.
Diane Karr, 1954-2018
WITH PROFOUND SADNESS we have to report the death on September 15, 2018, of our co-founder and publisher, Diane Karr. She bravely waged a long battle against a virulent cancer that ultimately claimed her life. For more on her remarkable life, see here.
Lost Railroads of New England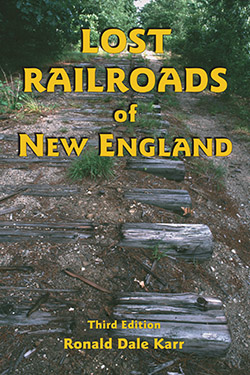 THE 3rd edition of our railroad history classic, Lost Railroads of New England by Ronald Dale Karr, comprises a fully annotated directory to all abandoned segments of every common carrier railroad operated in New England, updated through January 2010, as well as a concise history of the rise and fall of New England's railroads. The new edition includes all new maps with detailed city maps for areas of dense railroad activity; many more photographs; and new sections on rail trails and abandoned lines that have been reinstated. Find out about the abandoned lines and rail rights of way in your favorite part of New England.
Order your copy of Lost Railroads today!
Sign up for Our Newsletter
SIGN UP today to receive Branch Line Press's periodic email newsletter with special offers and notifications of our new titles as well as New England titles from other publishers whose books we sell.
You will receive two or three email newsletters per year. Remember to add branchlinepress.com to the approved senders on your email program's spam filter so you won't miss any of our news and special offers!
---
See our
Catalog Page
for more of our titles, as well as the titles we distribute from other small New England publishers.