From the Palmer Public Library . . .
One Town & Seven Railroads
The Railroads of Palmer, Massachusetts, Past, Present & Never Were
by the Palmer Public Library Railroad Advisory Board
An excellent work . . . The Palmer Public Library can be proud of the result.
—Railroad History #199
THIS exciting new book traces Palmer's unique railroad history beginning in 1839 through the present, showing how the railroads changed Palmer from a farming community into an industrial and commercial center. Many rare previously unpublished photographs of familiar Palmer locations are included. Comprehensive maps guide the reader through Palmer's villages and portray every railroad route. But this book is not just about trains. It tells how railroads affected everyday life, from the wealthy men who controlled the lines to the personal stories of past generations. Here are the stories of corporate swindles, ghost railroads, and the town's lively trolley system. Every New England railfan will want this book!
The First Book on Palmer's Railroads Is Now Available!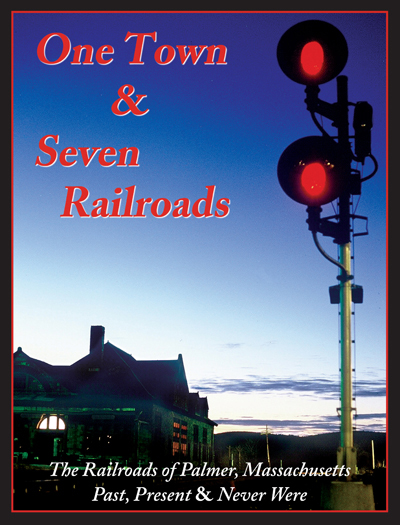 Published by the Palmer Public Library
8-1/2" x 11" paperback, 128 pages, $29.95
ISBN 978-0-9800995-0-8
Use your credit card or PayPal account to pay thru PayPal's secure cart service.