The Central Mass.
New revised edition!
THE CENTRAL MASSACHUSETTS RAILROAD was envisioned early in its history as a critical link in a route from Boston to the West, but was destined instead to become the Boston and Maine Railroad's longest branch line. One of the last railroads to be built in its home state, the Central Mass, could not withstand the combined forces of a changing economic base, the Great Depression, and natural disasters. Its gradual abandonment began in the 1930s, and only a tiny fragment remained as an active rail line by the close of the twentieth century.
The Central Mass., as first published by the Boston and Maine Railroad Historical Society in 1975, set forth the colorful history of the line, from its beginnings as the Massachusetts Central until the publication date. That edition sold out quickly and is now a collector's item. This second edition includes a reprint of the first edition from the original offset printing negatives. New are an additional 39 pages relating the fate of the Central Mass since 1975, its last days of train operation, and its ongoing rebirth as a rail trail. Also included are over 30 new illustrations, a comprehensive index to the entire work, and several short features elaborating on aspects of the history of the Central Mass. Newly prepared endpaper maps depict the Central Mass and connecting rail lines in 1920, along with previous and subsequent changes in station locations and route alignment.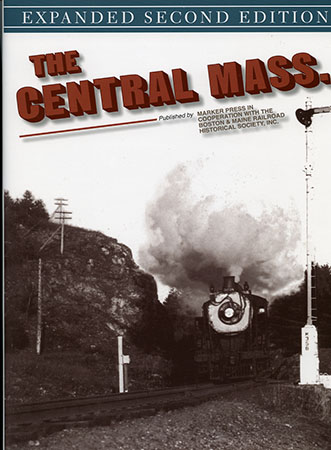 Published by Marker Press, in cooperation with the B&M Railroad Historical Society
8½" × 11" hardcover, 180 pages, more than 200 illustrations & maps, $39.95
ISBN 978-0-9662736-3-2
Use your credit card or PayPal account to pay thru PayPal's secure cart service.